Dry Toilet TC-30
CHF 699,00
Description of Dry Toilet TC-30
Dry toilet TC-30:
Official execution of the Federal Office for Civil Defence.
The BZS dry toilet system with approval no. BZS N 96-008 consists of a toilet and a faeces depot.
The basis of the system are stackable plastic buckets with well closing lids.
The toilet and the faeces depot are assembled from these elements.
No chemicals are required for operation.
Scope of delivery (including bags for up to 30 persons):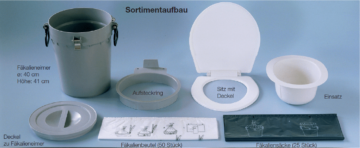 6 x Faeces bucket with lid
1 x Slip-on ring
1 x Seat with cover
1 x Insert
30 x Bag set of 50 insert bags
3 x Bag set of 25 insert bags