Description of Emergency Dental Repair Kit (Dentanurse)
Emergency dental pharmacy:
Indispensable in your medicine cabinet!
For reattaching loose crowns, bridges and fillings.
Each package comes with an instruction manual (German/French/Italian/Swedish/Spanish).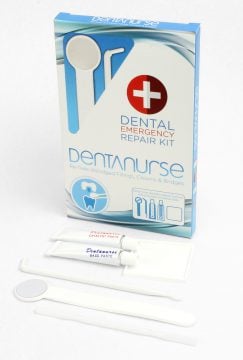 You know the situation: unexpectedly the weekend and vacations are ruined: by toothache! By a filling or crown that has fallen out. Of course at an inconvenient time and in the wrong place. "Dentanurse" ensures that this actually small problem does not thwart your plans. Developed by a dentist, only for emergency treatment, this pack allows you to reinstall fallen out crowns, bridges, fillings and inlays. This pack contains the complete instructions for use and enough material for several applications. The tubes contain zinc oxide and eugenol, materials that have been tried and tested in dentistry for this purpose. But remember: "Dentanurse" cement does not harden as firmly as your dentist's, deforms under pressure and is therefore an ideal and safe first aid measure. Nevertheless: In such a case, going to the dentist is unavoidable and must not be postponed.
Dentanurse cement does not become as hard as the materials used by your dentist even after hardening. It is still conditionally deformable in the mouth, adapts well to your teeth and is therefore an ideal, safe, temporary first-aid material!
Content:
Mouth Mirrors
Multipurpose instrument
Mixing spatula
Mixing foil
Tube "Base Paste"
Tube "Activator Paste"
Package Size:
17.3cm x 11cm x 1.4cm
DentaNurse UK LTD, The Mill, Preston-on-Wye, Herefordshire, HR2 9JU, UK