Description of Potato Pot
Crispy fried onions give this dish its special spice. Potatoes and soy ensure that, in addition to the savoury taste, hunger is also defeated. So when it has to be a savoury dish, the potato pot with fried onions is an ideal companion always and in every situation.
Filling Weight: 550g
Water Addition: 1800ml
Finished Quantity: 2350g
Tin results in: 6 portions of 425g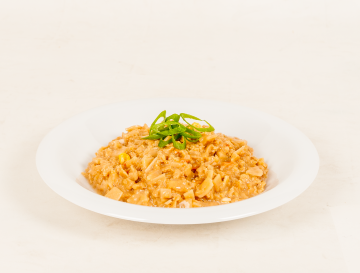 Preparation: Pour boiling water over the dry product – cover and leave to stand for 10 minutes – done!
Tin was packed in a protective atmosphere.
Nutritional values per 100g:
| | |
| --- | --- |
| Energy | 1865kJ / 445kcal |
| Fat | 23.0g |
| Thereof saturated fatty acids | 11.0g |
| Carbohydrates | 37.0g |
| thereof sugar | 2.9g |
| Protein | 19.0g |
| Salt | 4.6g |
| Dietary Fibres | 8.8g |
24% Potatoes, 24% roasted onions (76% onions, canola oil, palm oil, wheat flour, table salt), 20% textured soy protein concentrate, palm fat, table salt, modified starch, glucose syrup, yeast extract, maltodextrin, corn, carrots, thickener: guar gum; flavoring (with wheat, celery), caramel, spices, milk protein, lactose, acidifier: citric acid; yeast powder, sugar, soy sauce (soy beans, table salt, spirit vinegar), coloring curcuma extract.