Description of Hungarian Pot
The Hungarian pot with noodles offers a dish that delights the taste buds even beyond the popular goulash cannon with this stew. Beef and noodles complement each other perfectly and warm up tired limbs even at cool temperatures. You can confidently do without long braising when preparing the beef shepherd's meat. As with all freeze-dried dishes, preparation is quick and easy and the pleasure is guaranteed.
Filling Weight: 600g
Water Addition: 1950ml
Finished Quantity: 2550g
Tin results in: 6 portions of 425g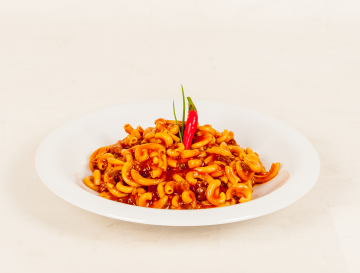 Preparation: Pour boiling water over the dry product – cover and leave to stand for 5 minutes – done!
Tin was packed in a protective atmosphere.
Nutritional values per 100g:
| | |
| --- | --- |
| Energy | 1660kJ / 396kcal |
| Fat | 13.8g |
| Thereof saturated fatty acids | 8.6g |
| Carbohydrates | 51.5g |
| thereof sugar | 8.0g |
| Protein | 15.3g |
| Salt | 6.0g |
| Dietary Fibres | 4.1g |
Noodles {(50%), durum wheat semolina, egg white, salt}, palm fat, 8% beef, starch, tomatoes, salt, paprika, onions, seasoning, lactose, yeast extract, flavouring, beef extract, garlic, caramel, dextrose, anti-caking agent: silicic acid, maltodextrin, thickener: guar gum, spices, smoke flavouring
Eggs, gluten, lactose, milk