Description of Scrambled Egg
In order to be on the safe breakfast side, the obligatory breakfast egg must not be missing. Scrambled eggs with onions are quickly conjured up on the table and complete every start to the day. Small diced tomatoes, fine herbs and onions complete the gourmet experience in the morning. Scrambled eggs with onions promise a high good mood factor, because after all, breakfast is the most important meal of the day and it should not lack for anything.
Filling Weight: 600g
Water Addition: 900ml
Finished Quantity: 1500g
Tin results in: 5 portions of 300g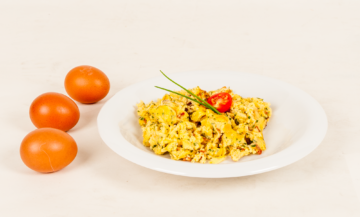 Preparation: Stir in cold water and fry in a hot pan. Addition of fat is not necessary.
Tin was packed under protective atmosphere.
Nutritional values per 100g:
| | |
| --- | --- |
| Energy | 2476kJ / 595kcal |
| Fat | 48.0g |
| Thereof saturated fatty acids | 26.0g |
| Carbohydrates | 13.0g |
| thereof sugar | 13.0g |
| Protein | 27.0g |
| Salt | 3.2g |
| Dietary Fibres | 1.2g |
40% Egg powder, palm fat, milk powder, 3.5% onions, table salt, tomatoes, egg yolk powder, spices, egg white powder, lactose, natural flavor, gelatin capsule: 7.5ml soybean oil