Description of Tripod Lashing
Building Tripod by yourself
The Tripod offers you a lot, but most of all: Adventure according to your ideas The light stainless steel disc is the basic structure for a self-made tripod made of branches. You guide it through the recesses and fix it by slightly twisting it. Your outdoor cooking area is now ready for use and your bushcraft camp or bivouac site is set up for the night. Thanks to the two hooks and chain, you can easily hang your Dutch Oven and your teapot over the crackling fireplace. You can regulate the required heat simply by adjusting the chain length.
Tripod for the Road – Always with You on Your adventure
The Tripod fits in any kind of luggage. With a total weight of 450 g, you can easily store the disc and both hooks and chain and take it with you on your discovery tours. You will find the necessary branches in the natural environment of your camp site and thus remain completely independent outside. The Tripod can also be used to build a stable shelter or tepee for the night when you are hungry.
Made in Germany.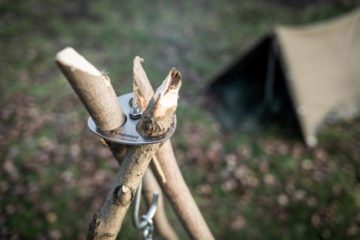 Technical Details
Material: Stainless steel, steel (galvanized)
H x W x D (Cooking Tripod Ring): 0.3 x 10.5 x 9.7 cm
Diameter for branches (max.): 3.5 cm
Total length (with hook and chain): 80 cm
Total weight: 450 g
Weight Cooking Tripod Ring: 98 g