Storm Can Base Camp one left only
CHF 89,00
Description of Storm Can Base Camp one left only
This unique storm can has been produced for over 100 years. Quite certainly the most environmentally friendly emergency cooker/water heater that can be operated with natural fuels, e.g. wood cuttings, twigs, pine cones, dry grass, peat, etc.
Boiling time for 1 liter of water: 2 – 3 minutes.
Even in extreme weather conditions the storm can works without any problems.
Material: Chrome steel
Height: 34 cm
Diameter: 18.7 cm
Weight: 1.18 kg
Content: 1.5 liters
Scope of delivery: storm can, protective cover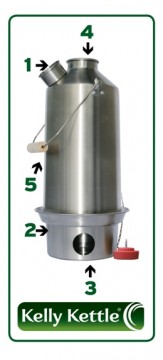 Water tank: → Fill in water.
Fire bowl: here you can fill in flammable material such as wood cuttings, newspaper, twigs, dancing cones, dry grass, peat, etc.
Through the hole in the fire bowl you can easily light the fire and if necessary additionally accelerate the burning with wind.
Fireplace: through the fireplace you can add more material to the fire from time to time.
Handle: the practical handle does not get hot and is mainly used when pouring out the boiling water (with the other hand you hold the chain and can pour over the water nice and slow, dosed).
Kelly Kettle Company, Newtown Cloghans, Ballina, Co. Mayo, Ireland