Solar Stove Premium14
CHF 639,00
Description of Solar Stove Premium14
Our most powerful solar stove can be used in all seasons and at all latitudes. You will be amazed how quickly e.g. cake, meat, stew, bread, pizza or pasta dishes are ready on the solar stove.
The Premium14 in a noble design is high-quality processed and is manufactured in Germany.
Boil 1 liter of water within 9 minutes!
A classic cake (500 g flour) is cooked in 50 minutes!
Due to its weather resistance, it can stand outside all year round. You will enjoy the solar stove for many years. The lifetime of a premium solar stove is more than 20 years!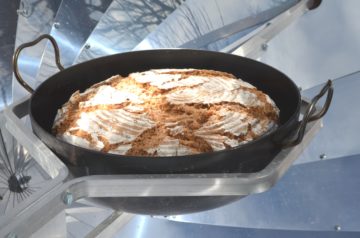 The Premium14 is the ideal solar stove for the garden, terrace, camping site and allotment garden.
The reflector material is weatherproof and protected against salty and chemically polluted air by a ceramic protective layer.
The solar stove can be quickly mounted and dismounted except for the reflector and can easily follow the sun due to the rotatable frame. Since the focal point is within the parabolic mirror, the reflector only needs to be adjusted every 20-25 minutes.
Reflector diameter = 1400 mm

Power: 700 watts with cloudless sky

Weight: 18 kg incl. packaging

Pack size: 117 x 55 x 10 cm
Scope of Delivery
Complete Premium14 kit including mounting materials
Assembly and operating instructions
Cooking Brochure
Allen key for mounting the reflector plates
Sun and Ice GmbH, Bahnhofstrasse 1, 84558 Kirchweidach, Germany