Description of Super Tool 300 Black
The award-winning Leatherman Super Tool 300 is the multi-tool for every job. We have equipped it with our strongest pliers, which thanks to their bevelled design remain maneuverable even in tight places. The large cut-outs on the sides ensure that you can always easily grip the tool components, even when wearing gloves, and the ergonomically shaped handles make for comfortable handling.
Cable cutters, wire and hard wire cutters are included as standard in the Super Tool 300. 19 tools are just waiting to do the toughest jobs.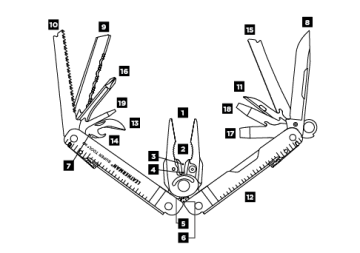 1 Pair Of Pointed Pliers
2 Normal Pliers
3 Interchangeable Wire Cutters
4 Exchangeable Hard Wire Cutter
5 Stranded-wire Cutters
6 Crimping Pliers
7 Stripping Blade
8 Knives
9 Serrated Knife
10 Saw
11 Awl With Eyelet
12 Ruler
13 Can Opener
14 Cap Lifter
15 Wood/metal File
16 Phillips Screwdriver
17 Large Screwdriver
18 Medium Screwdriver
19 Small Screwdriver
Blade length: 8.13 cm
Tool length (closed): 11.5 cm
Weight: 272.15 g
Leatherman Tool Group Inc. Portland, OR 97294