Description of Hunter's Pot
The hunt for a hot and hearty dish can be so easy even far from civilization. The mild-spicy note gives the Jägertopf an unmistakable taste. There memories are waked: Of a zünftiges meal with good friends or of granny's house prescription. The balance of beef, mushrooms and the noodle portion is well-balanced and provides a "wild" taste pleasure. The Jägertopf is refined with parsley.
Filling Weight: 600g
Water Addition: 1950ml
Finished Quantity: 2550g
Tin results in: 6 portions of 425g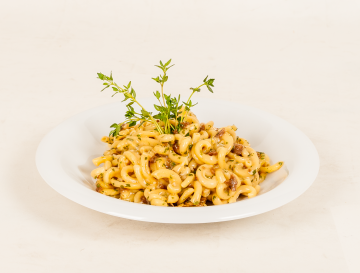 Preparation: Pour boiling water over the dry product – cover and leave to stand for 5 minutes – done!
Tin was packed in a protective atmosphere.
Nutritional values per 100g:
| | |
| --- | --- |
| Energy | 1678kJ / 399kcal |
| Fat | 11.8g |
| Thereof saturated fatty acids | 5.6g |
| Carbohydrates | 56.0g |
| thereof sugar | 7.5g |
| Protein | 16.8g |
| Salt | 3.3g |
| Dietary Fibres | 3.3g |
Noodles {(50%), durum wheat semolina, protein, salt}, 9% beef, maltodextrin, cream powder, starch, palm fat, seasoning, 2. 5% mushrooms, onions, butterfat, flavor (with wheat), tomatoes, salt, parsley, dextrose, lactose, thickener: guar gum; glucose syrup, spices, yeast extract, anti-caking agent: silicic acid; milk protein, smoke flavoring, stabilizer: triphosphate . Meat weight dry
Eggs, gluten, lactose, milk