Description of Stacking Grate made of Cast Iron
The stacking grid made of solid cast iron creates a first-class heat distribution – just the right thing for baking, steaming and steam cooking on several levels in the fire pot. Because the insert stands on three feet, which with a length of 4.3 cm create the ideal distance to the bottom of the pot, you can cook meat, vegetables and cakes without burning. By the way, the stacking grate fits especially well in the firepot ft4.5 and in all larger pots (up to ft9). Thanks to its seasoned finish, you can use this grate immediately and don't have to burn it in.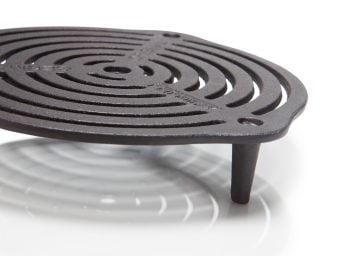 In a Pot, on Fire or as a Coaster
For steam cooking in a fire pot, either a grid is used or several grids are simply placed on top of each other. If the grate is directly in the embers, it doesn't take long until it has sizzled the perfect grill pattern into your grilled meat. Or you can put the stacking grate into the fire and use it as a stand for percolator, tea kettles or fire pots without feet. It can also be used as a practical coaster for hot cookware on the table.
Technical Data
Diameter: 23cm
Material: cast iron
WxHxD (in cm): 23 x 4.8 x 23
Weight: 1100g